Home > Job Description > Assistance Services provided by INTAC
Assistance Services provided by INTAC
We offer assistance services based on our corporate philosophy, "PATH".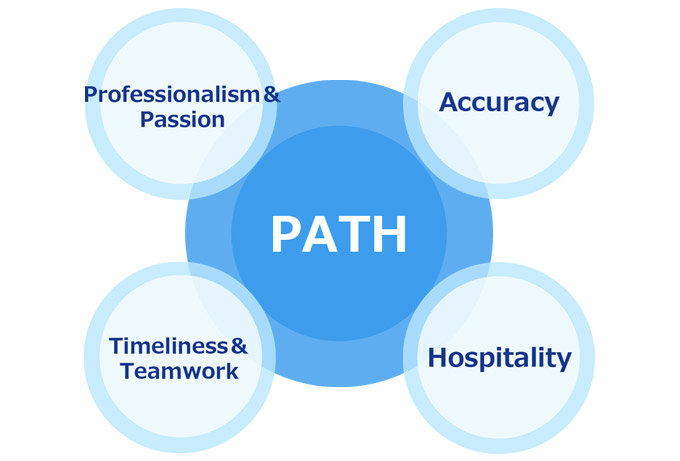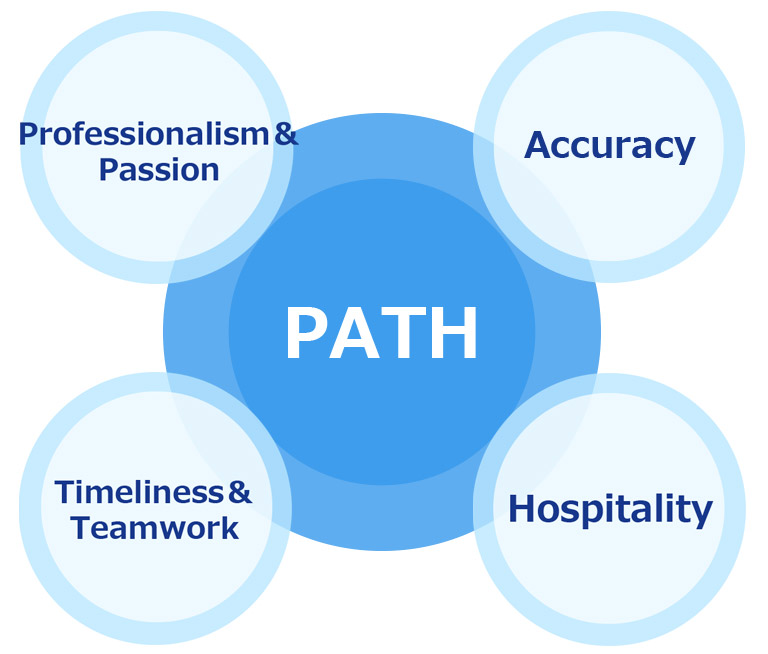 Professionalism & Passion

Our staff who are proficient at languages and highly-skilled in international negotiations will respond to your requests.
Imagine that you are injured while traveling overseas. It is extremely difficult to accurately describe your symptoms and how painful you are in a foreign language where language and culture are completely different. Moreover, you may be overwhelmed with anxiety when you do not know what procedures you must go through in order to have a consultation or how to pay the medical expense upon visiting a hospital. INTAC's operation staff are fluent in English and have expertise knowledge in regards to insurance terms and conditions, therefore, we are able to take a flexible approach according to different circumstances. We collaborate closely with our partner assistance company in order to arrange a consultation at a hospital that suits your request and arrange payment of medical expense to the hospital.
We provide broad-based assistance services to support you in times of emergency.
INTAC's assistance services range widely from offering advice concerning stolen belongings and liability cases, medical assistance for sickness and injury cases, and overseas risk management which requires challenging assistance experiences.
We support you with responsibility from the time of the accident until you safely return home.
Our assistance services begin from the first call, and we continue to provide our services until our customers are safely back home. For instance, if we are informed that our customer is admitted to a hospital, we closely monitor our customer's medical condition and confirm the expected date of discharge, determine whether the customer is fit to fly to travel or not, collect as much information as possible, and update all information to the family and relevant parties. Receiving the first call from our customers is nothing more than a starting line of our assistance services.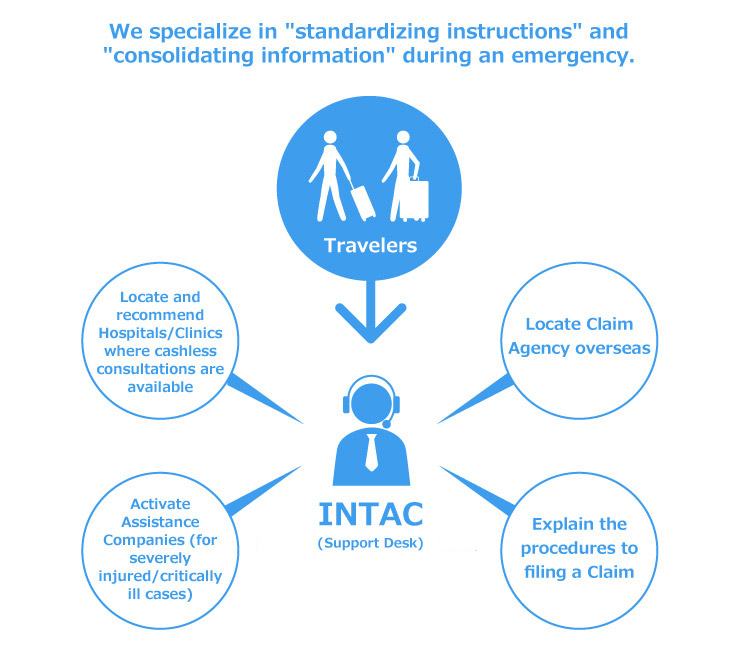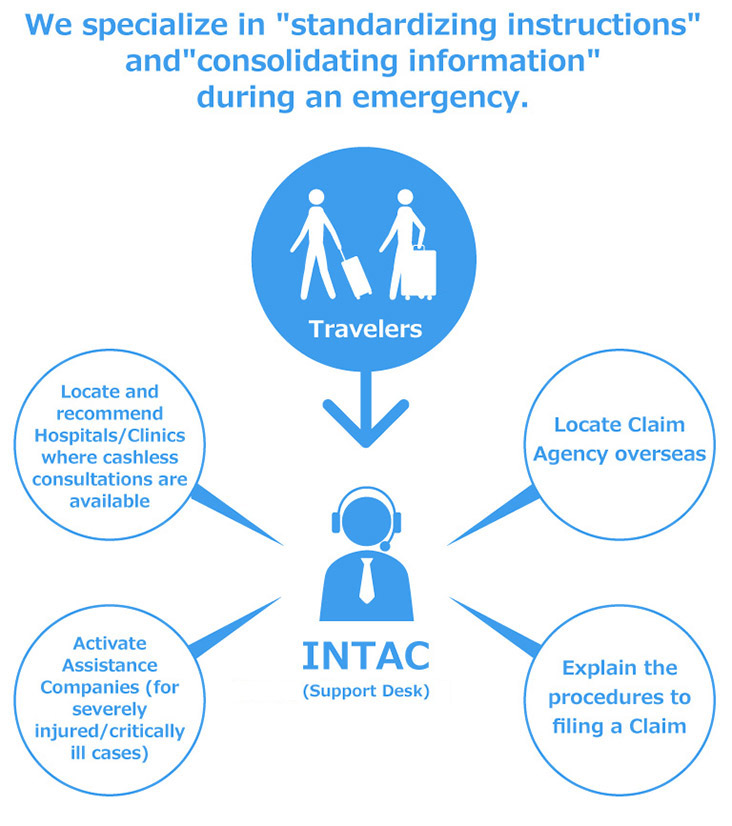 Accuracy

Our assistance operation center is open 24/7 to offer help to our customers from all over the world.
In order to offer speedy assistance to our customers who are involved in unexpected troubles without delay, INTAC secures its control center in Tokyo, Japan to receive calls from the world. Since information is centralized at our Tokyo operation center, we are able to unify instructions to our partner assistance companies which will help us quickly access to the latest information in order to offer appropriate help to all of our customers.
Timeliness & Teamwork

We provide world-wide security and safety to all of our customers in collaboration with our partner assistance companies.
Number of international travelers who travel overseas from Japan count to 17 million in 2015, and travelers who travel to Japan from overseas is about to count to almost 20 million people. Demand for assistance services is increasing throughout the world including Japan. By taking advantage of our international network of partner assistance companies located world-wide, INTAC, as a professional assistance provider, will give explicit instructions that will suit different occasions in order to offer the most high-quality and appropriate services.
We provide speedy assistance.
When we imagine the feelings of our customers who are involved in trouble overseas, we think that it is of great importance to first of all erase fears among them as soon as possible. INTAC started out as a division within our predecessor company, Tokio Marine Medical Service Co., Ltd. (Current Tokio Marine Nichido Medical Service Co., Ltd.) to provide medical and health consultation services to overseas expatriates from 1988 and became an independent group company of Tokio Marine & Nichido Fire Insurance Co., Ltd. in 1988. The actual situation for most other assistance companies is that they need to get an approval from the insurance company before they can take their next action. However, unlike other assistance companies, INTAC is able to closely collaborate with the insurance company and access to insurance coverages. By maximizing our long-time experience and knowledge, we are able to make prompt decisions on time. We not only provide multilateral advice on appropriate occasions, but also offer speedy assistance to all of our customers.
Hospitality

INTAC dedicates all our strength to offer security and safety to all of our customers.
Each customer's trouble differs from one customer to another. For this reason, INTAC, who keeps in mind of "OMOTENASHI" spirit (hospitality) at all times, aims to eliminate customer's anxieties by treating our customers with all our heart. Our business purpose is to achieve our customer's sense of reassurance by fulfilling our corporate mission.