Home > Job Description > Types of Assistance Services:Inbound Assistance:Description of our Services
Types of Assistance Services
Inbound Assistance:Description of our Services

We support our customers to have a pleasant stay in Japan by providing sincere services based on our abundant experience and knowledge.
When international travellers face accidents such as injury or sickness while visiting Japan, we support our customers by providing the following services 24/7: (Locating and recommending hospitals, offering telephone interpretation during medical consultations, arranging ground transfer, placing payment guarantee to the hospital, etc.) In cases where customers are unable to return home as originally scheduled, we will check their medical condition with the hospital and arrange a repatriation so that they can return home once they are medically fit to fly to travel.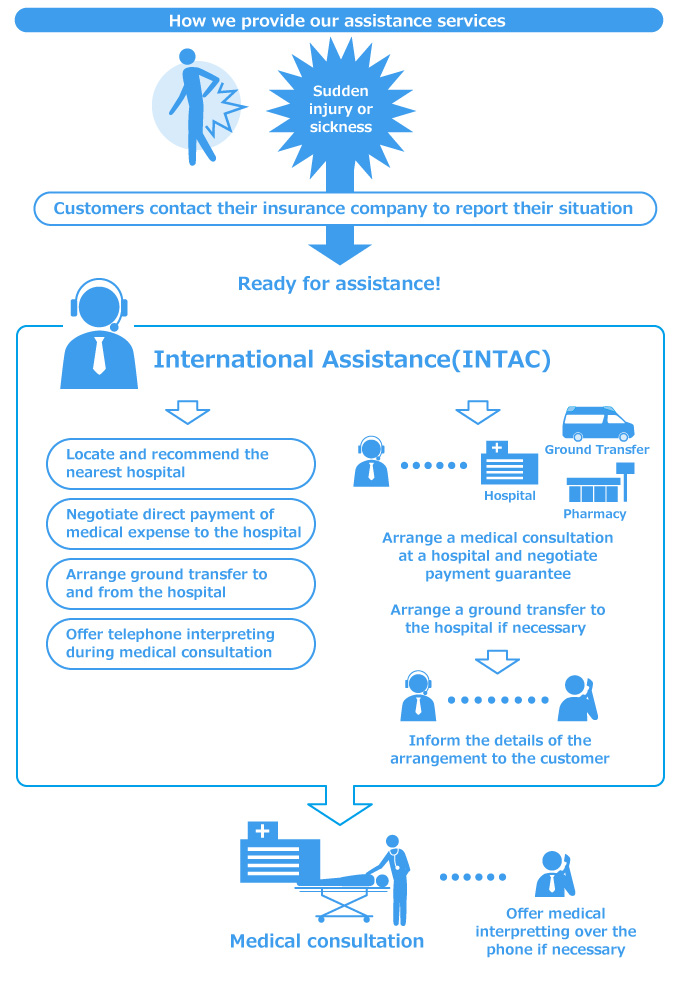 <Medical Assistance Service>
We provide assistance services at the requests from our global partners around the world.
Recommend hospitals and arrange a medical consultation
Negotiate direct payment of medical expense to the hospital
Obtain medical information from the hospital to check medical status of the patient
Offer telephone interpreting during medical consultation
Arrange evacuations and repatriations
Arrange ambulances and ground transfers such as taxi
Arrange wheelchair and stretcher repatriation on commercial flights
Arrange repatriation on chartered flights
Arrange Escort Doctor and Nurse
Arrange transportation and hotel accommodations for the rescuers
Arrange a body repatriation of the deceased person